Concert de Son & The Holy Ghosts als SINGLONCERTS
El proper SINGLONCERTS es celebrarà a la fresca, a la terrassa del restaurant Es Singló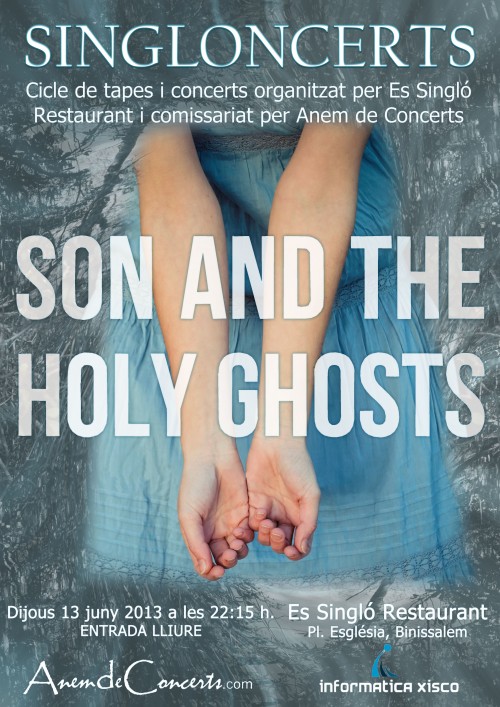 Son & The Holy Ghosts estan presentant el seu nou àlbum "The Soldier & Lady Fire" (2013, Blau DiscMedi), que agrupa els temes del seu anterior EP "Shadows & Monsters" junt amb 4 noves cançons, amb una producció molt acurada per part de Rafa Rigo. Inclou el DVD "A light into the darkness", dirigit per Mateu Moll, amb la filmació de la seva actuació al Teatre d'Alaró a finals del 2012.
Després de presentar-lo oficialment al Teatre de Lloseta el passat 30 d'abril davant més de 200 assistents i fer alguns concerts i actes promocionals a Madrid, el grup format per Guillem Mesquida, Josep Verdera, Joan Grimalt, Xesc Carbonell i Enrique Pérez oferirà un nou concert per al públic mallorquí a la terrassa del restaurant Es Singló de Binissalem, el dijous 13 de juny a partir de les 22:15h i de franc, després de gaudir de les seves conegudes tapes i ous yeah!. Aquesta actuació forma part de la programació dels SINGLONCERTS: Cicle de tapes i concerts organitzat per Es Singló Restaurant i comissariat per Anem de Concerts.
El següent vídeo és un bocí del DVD publicat amb el nou disc on pots veure els músics del grup parlant del projecte i també actuant en directe.
El cicle SINGLONCERTS ha ofert les actuacions de The Last Dandies, Muntaner Duo, The Prussians, Oliva Trencada, Los Volcanos, Donallop i Petit el 2012, continuant enguany amb Miquel Serra, Rec_On, Tomeu Quetgles Trio. Saxophobia Funk Project i Misery Strings.