Recomanació Setmanal_26jul12
Oso Leone, Dinamo, Los Fletchers, The Monster Ones, Awesome Dawson & The Volcanoes, Ceremoney, Akari, Saxophobia Funk Project, Sr. Nadie i Chase & Status.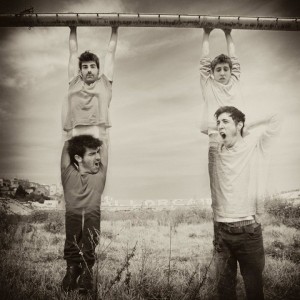 Un dels espais més actius en celebrar concerts a la fresca aquest estiu a Mallorca, és Sa Possessió de Son Rossinyol. Ara tornarà ser escenari d'una interessant festa, organitzada per i al gust d'Oso Leone (http://osoleone.bandcamp.com/). Aquest grup mallorquí de folk progressiu, va publicar el seu primer disc homònim el 2011, amb Foehn Records, que han presentat fins fa poc per varis llocs, arribant a penjar el cartell d'entrades exhaurides al Festival Emergencia! i a la Sala Apolo. No te pareix que és un grup que hauria de conèixer molta gent per aquí? Idò encara te diré més: han estat els guanyadors del concurs TalentoSOS del festival SOS 4.8 d'enguany. La seva música, ben acabada i plena de detalls dignes d'excel·lents músics, es pot escoltar en directe en comptades ocasions, ja que el grup de Xavi Marín i Paco Colombàs no es prodiga molt als escenaris de la nostra illa. Per tant, aquesta és la meva recomanació més destacada per a aquests dies. A la Fiesta en el Jardín hi actuaran, convidant també a Film Behavior, diversos Dj's i Vj's.
Dissabte podem començar ballant ska amb Dinamo, seguir escoltant les cançons amb esperit de rock nacional de Los Fletchers o l'horror-punk-rock de The Monster Ones i Los Alegres Difuntos, que actuaran en finalitzar la III Mallorca Zombie Walk.
A la Part Forana actuaran el grup de rockabilly Awesome Dawson & The Volcanoes, el grup de post punk tropical Ceremoney i el de rock alternatiu Akari.
Diumenge podrem escoltar en directe a Saxophobia Funk Projecte, format per quatre saxòfons, o les cançons del disc en solitari de Sr. Nadie, darrera el qual hi ha Jaime Soriano, vocalista de la dissolta banda Sexy Sadie.
La proposta del Mallorca Rocks per al proper dimarts és la mescla de drum 'n' bass, dubstep i breakbeat de Chase & Status, considerats uns dels millors productors del Regne Unit.
Que puguis veure molts de concerts i… amb salut!
| | | | |
| --- | --- | --- | --- |
| Data | Artista, banda | Més dades | Lloc celebració |
| 27-jul-12 | Oso Leone | Amb Film Behaviour, dj's i visuals | Sa Possessió, Palma |
| 28-jul-12 | Dinamo | | Passeig des Born, Palma |
| 28-jul-12 | Awesome Dawson & The Volcanoes | | Dugans Irish Bar, Cala d'Or |
| 28-jul-12 | Los Fletchers | | Jarana Club, Palma |
| 28-jul-12 | Ceremoney | | Quarter General Luque, Inca |
| 28-jul-12 | Akari | | Es Diürn, Porto Cristo |
| 28-jul-12 | The Monster Ones | | Pub Tunnel, Palma |
| 29-jul-12 | Sr. Nadie | | Vamp Cafè, Palma |
| 29-jul-12 | Saxophobia Funk Project | | Claustre Santo Domingo, Inca |
| 31-jul-12 | Chase & Status | | Mallorca Rocks, Magalluf |